Celebrate with us
Welcome! The Barn at Woodlake Meadows was built in 2010 on over 50 acres of wooded land, nestled into the rolling hills of the Piedmont. It has been lovingly expanded over the years to include a lakeside ceremony site, beautifully landscaped grounds, and over 100 farm animals, and is now a favorite event venue for folks all across North Carolina and beyond. We would be delighted to be a part of your next special occasion!
Located on 52 acres in beautiful Chatham County
The Barn is surrounded by wooded grounds, green pastures, a 3 acre pond, Scuppernog vineyards, and rustic silos, and features a fully working farm. Some of our animals include: llamas, miniature donkeys, miniature horses, sheep (and Lily the sheepdog!), goats, cows, turkeys and chickens. Outdoor parties at our venue are fun and functional, and in case of rain your ceremony can be moved inside our fully decorated barn. Tours are available by appointment.
Warm ambiance and attention to detail
Our entire property has been built with love from the ground up, and we hope to share that joy with you in every detail of your event. This country venue is perfect for weddings, receptions, anniversaries, and any type of special gathering, and we leave no finishing touch overlooked. For the comfort and convenience of your guests, The Barn offers full service catering, plentiful parking, and recreational options such as lawn games and skeet shooting. We also have reception equipment available for rent, access to a prep kitchen for vendors and organizers, and on-site event transportation between buildings.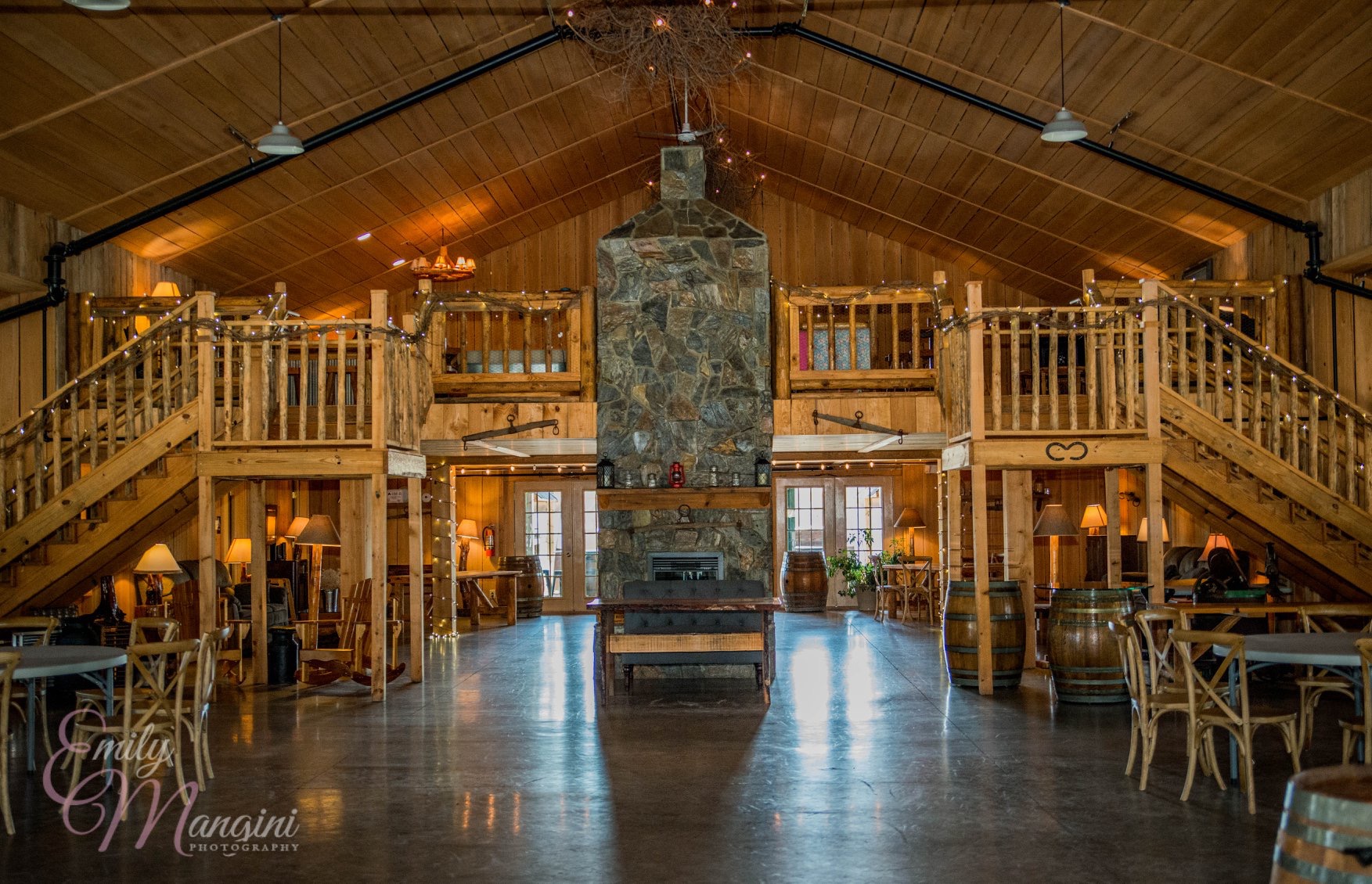 Fully equipped for your wedding ceremony and reception
When you book a wedding at The Barn your package is always inclusive of the entire weekend of the event. We would also love to host your rehearsal and rehearsal dinner at The Barn on Friday evening, with catering available if desired. Our romantic ceremony site, complete with a pier and grapevine arbor, overlooks a tranquil lake with a chapel facade on the opposite shore. Our spacious barn promises a fabulous reeption filled with music and dancing. For a full list of features please visit the Weddings page or contact us by phone or email.
Catering
We offer on-site buffet style catering for wedding rehearsal dinners and receptions, specializing in Southern comfort food
homemade by our family with the freshest ingredients and love you can taste.
LET US HELP YOU PLAN YOUR BIG DAY
We take great pride in all of the events hosted at The Barn and enjoy getting to know each group or couple that we work with. Knowing that no two occasions are the same, we provide a personal touch, flexibility, and all your questions answered. We would love to hear how we can make your experience reflect your style!
Contact Us
We'd love to hear from you -- please drop us a note and we'll try to reach out to you as soon as we can!
Our Office
3809 McLaurin Rd
Bear Creek, NC, 27207
BOOKING
INQUIRIES:
919 - 545 - 1139